Well drilling rig Hydro-50 type
Specification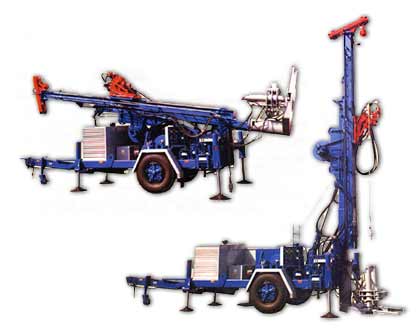 HYDRO-50 is the well drilling rig which is used to drill vertical holes, in particular for:
bore-hole wells,
concrete and wooden piles
Drilling methods:
rotary continuous core drilling,
rotary drilling with occasional drillings removal,
rotary drilling with rightward flush circulation,
percussion drilling with the use of a jerk-winch.
Technical data
Well drilling rig
Hydro-50 type
Hydraulic pumps main drive
Hydraulic pumps

120/16 + 120/20 + 40/20 dm3/min

Hydraulic drill:
torque
revolutions
Drill shift

stroke
pull-down force
pull-up force

Guide mast shift

travel
pull-up force
pull-down force

Hydraulic winch

cable strength
cable diameter
cable length

Jerk-line

skok narzędzia udarowego
max. masa narzędzia
promień korby
ilość cykli / min

600 400 mm
600 1000 kg
240 165 mm
0 - 30

Clamping device for casing pipes

max. diameter
pull-up force
pull-down force
travel

Total weight
7000 kg
?
Download