Geological drilling rig H30S type
Specification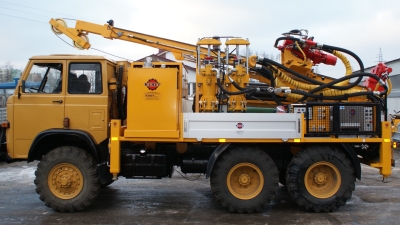 H30S vehicle drilling rig is used to make vertical bores by flush drilling technology (rightward process).
To this machine we propose the following slurry pumps:
Piston type with efficiency ~400 dcm3/min
Screw type with efficiency ~600 dcm3/min
Rotational type with efficiency ~1.500 dcm3/min
Drilling rig H30S is mounted on an all-terrain vehicle. Machine is drive from an additional hydraulic power pack (with fuel engine ~90kW max.) installed on board.
Technical data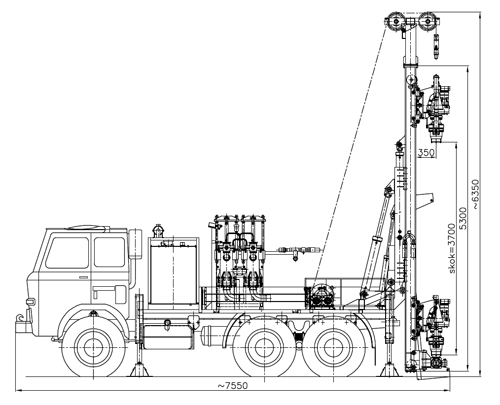 Geological drilling rig H30S type in working position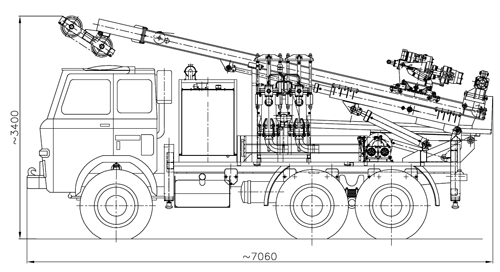 Geological drilling rig H30S type in transport position
Technical data
GEOLOGICAL DRILLING RIG
typ
H30S TYPE
MAX. DRILLING DIAMATER (DRY / SCRUBBER)
mm
300/170
MAX. BORE DIAMETER
m
3
MAX. DRILLING DEPTH (DRY / SCRUBBER)
m
50/100
MAX. CASING PIPE DIAMETER
mm
12 3/4"(324mm)
ROTARY HEAD
GEAR
I
II
TORQUE
daNm
500
250
REVOLUTIONS
rev/min
80
160
POMPA PŁUCZKOWA NURNIKOWA PPN350
MAX. efficiency
dm³/min
350
MAX. PREASURE
MPa
4
FENCE




ROATARY HEAD TRAVEL
mm
3700
PULL-DOWN FORCE
kN
40
PULL-UP FORCE
kN
60
FENCE TRAVEL




TRAVEL
mm
1200
PULL-DOWN FORCE
kN
130
PULL-UP FORCE
kN
190
HYDRAULIC WINCH




MAX. LINE STRENGHT
kN
29
LINE DIAMATER / LINE LENGHT


ø 12mm / 120m
JERK-LINE (OPTION)


TRAVEL OF THE DEVICE HUNG TO THE LINE
mm
630


MAX. DEVICE WEIGHT
kg
630
880
WIDTH
2550
TOTAL WEIGHT (WITHOUT CAR)
5000÷7500 kg
VEHICLE CHASSIS
Before purchasing, please consult
​