Vechicle drilling rig H25SI
Specification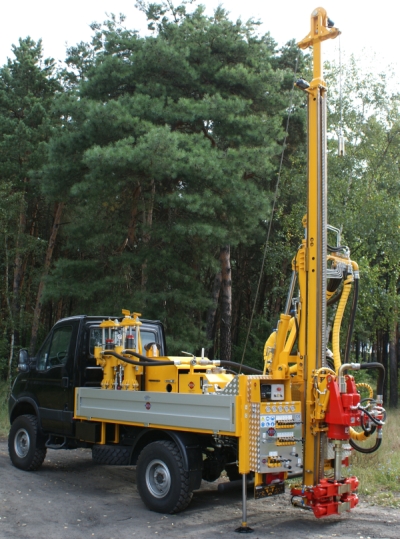 H25SI type rig is mounted on the chassis of IVECO Daily 4x4 (GVW 5500 kg) and is used to flush drilling mud from the right circulation. It can be equipped with a mud pump plunger with a capacity of 250 or 350 dm
3
/min with maximum working pressure up to 4 MPa or centrifugal pump available on request.
The main drive of hydraulic pumps rig is equiped with a separate hydraulic system of an internal combustion engine mounted behind the cab of the vehicle or IVECO vehicle engine through two PTOs. Drilling can be completed according to the individual needs.
Completion of each drill must be agreed with the manufacturer.
Technical data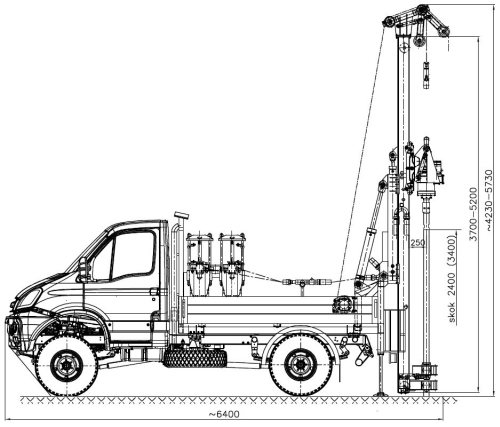 H25SI vehicle rig in working position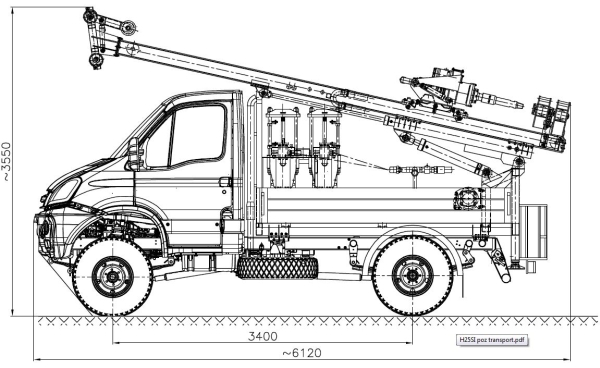 H25SI vehicle rig in transport position
Technical data
Vehicle rig

type

H25SI

Max drilling diamater

mm

Ø160

Drilling depth

m

60÷80

The length of the rod

mm

2000 (3000)

Double clamp for unscrewing the rod

mm

Ø70÷230

Rotary head

gear

I

II

Torque

daNm

400

200

Rotary speed

rev/min

40

80

Guide

Length

mm

3700 (5200)

Rotary head travel

mm

2400 (3400)

Pull-down force

kN

24 (21)

Pull-up force

kN

35 (42)

Guide travel

Travel

mm

1300

Pull-down force

kN

85 (96)

Pull-up force

kN

120 (140)

Hydraulic winch

Max line strength

kN

12 (29)

Line diamater

mm

Ø10 (Ø12)

Line length

m

50 (120)

Auger pump – plunger

Type

PPN250 (PPN350)

Max. efficiency

dm3/min

250 (350)

Max pressure

MPa

4

The internal combustion engine of the hydraulic generator

Diesel 60-75 kW

Rig width

mm

2070

Rig weight (without accessories)

kg

2400÷2800
​