Geological drilling rig H13P type
Specification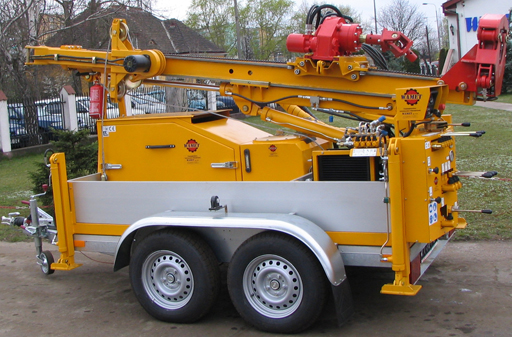 H13P - the geological drilling rig is used to make vertical bores by means of the following methods:
dry auger drilling
casing pipe drilling
sludge deepening
The topic machine is able to make holes o160mm, 15m depth on the average ground conditions. Drilling rig H13P is mounted on a light two-axel trailer and is a perfect machine for all sorts of drilling works. The control panel can be designed as a swing or permanently attached to the back left.
Technical data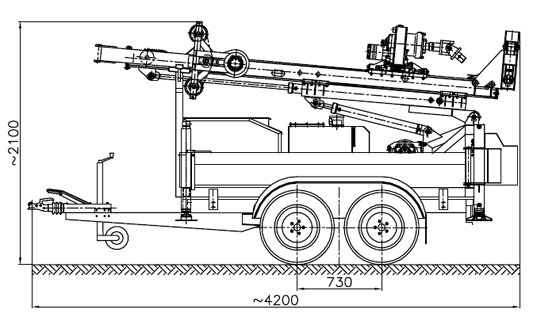 Drilling Rig H13P in transport position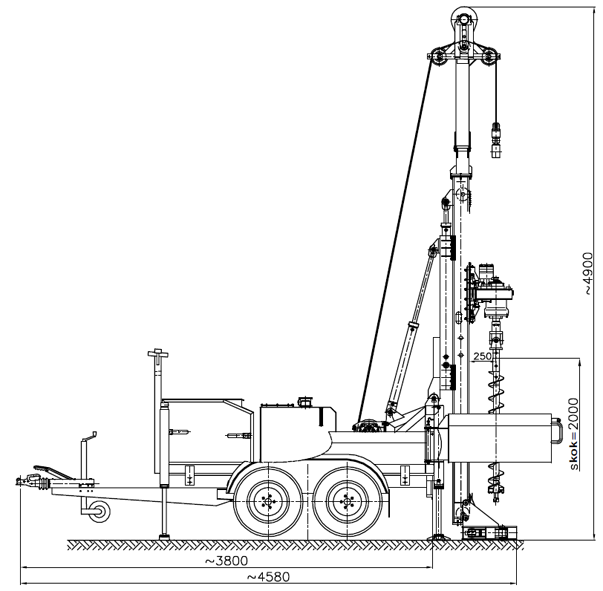 Drilling Rig H13P in working position
Technical data
Drilling Rig
type
H13P
MAX. BORE DIAMETER
mm
ø 160
MAX. BORE LENGTH
m
30
MAX. CASING PIPE DIAMETER
mm
7 5/8"(194mm)
ROTARY HEAD
GEAR
I
II
TORQUE
daNm
320
160
REVOLUTIONS
rev/min
30
60
FENCE


LENGHT
mm
3200
ROTARY HEAD SHIFT
mm
2000
PULL-DOWN FORCE
kN
16
PULL-UP FORCE
kN
24
FENCE TRAVEL


SHIFT
mm
1100
PULL-DOWN FORCE
kN
50
PULL-UP FORCE
kN
75
HYDRAULIC WINCH


MAX. CABLE STRENGTH
kN
12
CABLE DIAMETER / CABLE LENGTH


ø 10mm / 50m
JERK-LINE


TRAVEL OF THE DEVICE HUNG TO THE LINE
mm
750
620
480
MAX. DEVICE WEIGHT
kg
230
375
490
Engine power rating
18 kW
WIDTH
~2020 mm
Drilling rig weight [with trailer]
~1700 kg