Vehicle drilling rig type H16S
Specification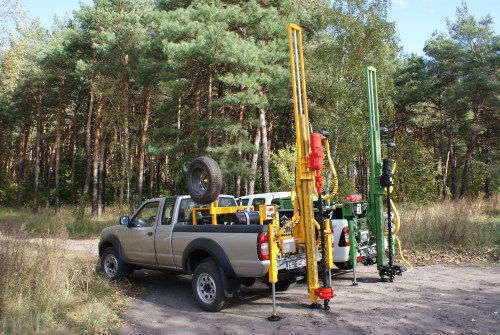 Vehicle drilling rig, type H16S is intended to drill (using a auger) uncased ground holes with a diameter of max. Ø160 mm and max. depth of 20 m.
It may be mounted on a platform of 4 x 4 offroad vehicle, such as Toyota, Nissan, etc. with a minimum load capacity of 800 kg. The rig has an independent drive (a combustion engine) and two supporting feet.

Drilling is performed by a single-speed rotary head and augers screws of 1 m length ended with a drill head.

Technical data








VEHICLE DRILLING RIG TYPE H16S
MAX. BORE DIAMETER
mm
Ø160
Ø100
MAX. BORE LENGTH
m
15
20


TORQUE
Nm
950
ROTARY SPEED
rev/min
100
FENCE
ROTARY HEAD SHIFT
mm
1300÷1800
MAX. PULL-DOWN FORCE
kN
12
PULL-UP FORCE
kN
25
MAIN DRIVE
DIESEL OR PETROL


POWER
kW
18
MAX. ROTARY SPEED
rev/min
3000
DRILLER WEIGHT (WITHOUT EQUIPMENT, WITH OIL AND FUEL)
~650 kg
Draw. DrillingRig H16S – position for transportation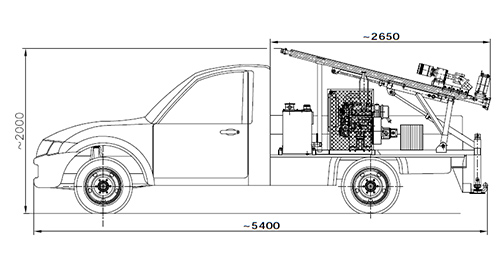 Draw.Drilling Rig H16S – working position