Multifunctional caterpillar drilling rig, type H30G
Specification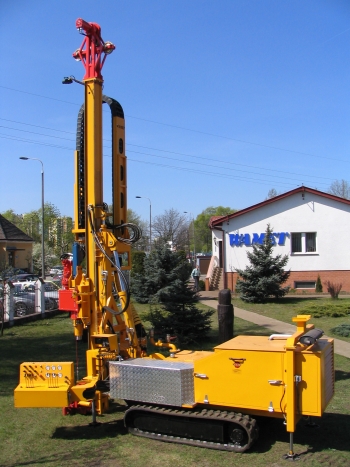 H30G type drilling rig is mounted on a self-propelled chassis with rubber caterpillars and is used to make vertical bores by means of the following methods:
- rotary drilling with a continuous auger,
- continuous auger or casing pipe drilling,
- casing percussion drilling by means of percussive equipment (slime-pipes) with the use of jerk-line mechanism and a hydraulic winch,
- high-speed drilling for core barrels,
- rotary and percussion drilling with the use of the upper hammer with flushing supplied by the lower casing head.
- rightward flush circulation drilling,
It is also possible to choose different drilling equipment according to the user's needs.
The drill is also available for drilling heat pumps (see: Vertical drill rigs -> Drilling Rigs for heat pumps).
Technical data
Max. drill diameter

Ø250

mm

Max. drill length (dry / wet)

30 / 80

m

Rotary head
- torque
- rate of rotation

Gear I/Gear II
420/210
120/240


daNm
rev/min

Rotary and percussion head (option)
- torque
- rate of rotation
- hydraulic hammer stroke energy
- hammer strokes (max.)


40÷600
750÷60
260
1000


daNm
rev/min
J
1/min

Rotary head shift
- shift
- pull-down force
- pull-up force


3700
40
60


mm
kN
kN

Fence shift
- shift
- pull-down force
- pull-up force


1000
80
120


mm
kN
kN

Mud pump – plunger (option)

max. efficiency

max. preasure

350

4

dm3/min

MPa

Hydraulic winch
- max. line strenght
- line diamater
- line length


29
Ø12
120


kN
mm
m

Jerk line
- ravel of the device hung to the line
- maximum device weight


750 620 400
390 455 635


mm
kg

Clamping device
- max. casing pipe diameter

245
95/8"

mm

Double clamping for drill pipe unbolt
- drill pipe diameter (max.)
- strength


Ø32 ÷ Ø200
0 ÷ 250

mm
kN

Driving motor (Diesel)
- power

60÷70

kW

Maximum drilling rig width

1800÷2000

mm

Rig weight (without accessories)

4900÷5600

kg
Download