Casing pipes for piling machines
Specification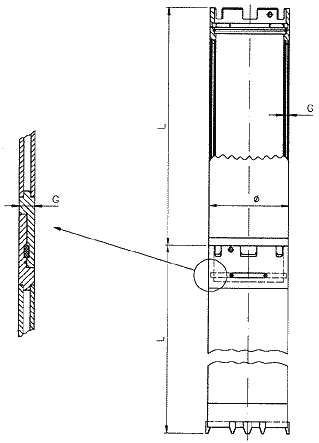 Casing pipes are made from o600mm to o1800mm in two versions: single or double coating.
Those tools are used to protect hole against cover by soil while piling work.
Casing pipes are equipped with special joints for transfering the torque and parallel forces. Joints ensure tightness of connection. Casing pipes are produced from 1m to 6 m length. They can interact with any casing equipment.
Technical data
Technical data
| | | | | | | | | | |
| --- | --- | --- | --- | --- | --- | --- | --- | --- | --- |
| Exterior diameter [mm] | 600 | 700 | 800 | 900 | 1000 | 1200 | 1300 | 1500 | 1800 |
| Interior diameter [mm] | 520 | 620 | 700 | 800 | 900 | 1100 | 1200 | 1400 | 1700 |
| Flange thickness [mm] | 40 | 40 | 50 | 50 | 50 | 50 | 50 | 50 | 50 |
| Amount of lock-holes | 2 | 2 | 3 | 3 | 3 | 3 | 3 | 3 | 4 |
| Amount of wedges | 4 | 4 | 6 | 6 | 6 | 6 | 6 | 6 | 8 |
| Side thickness for single-coating pipe [mm] | 12 | 12 | 15 | 15 | 15 | 15 | 18 | 18 | 20 |
| Side thickness for double-coating pipe(exter.- inter.) [mm] | 10-6 | 10-6 | 12-6 | 12-6 | 12-8 | 12-8 | 15-8 | 15-8 | 18-10 |
| Lock weight [kg] | 330 | 390 | 550 | 625 | 705 | 853 | 925 | 1070 | 1220 |
| Weight of single-coating pipe [kg/m] | 180 | 215 | 245 | 280 | 355 | 430 | 470 | 545 | 785 |
| Weight of double-coating pipe [kg/m] | 230 | 280 | 375 | 435 | 525 | 695 | 715 | 885 | 1145 |