Free-fall hydraulic hammer type HY-RAM
Specification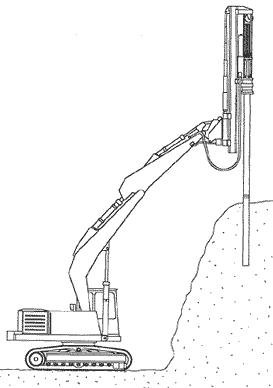 Free-fall hydraulic hammer type HY-ram is a modern construction used to drive steel elements and wooden or reinforced concrete piles. It is power by hydraulic system build on excavator or pile driver.
Working based on: free falling of the ram and hydraulic raise. Hammer type HY-ram is supplied with electronic control system, which include height of falling and hitting frequency.
The hammer construction provided the best energy transmission into pile. HY-ram hammers are produced in a few versions, weight from 250 to 2750 kg. They interact with a special pole build on hydraulic excavator or Pile Driver type KP-33 G.
Technical data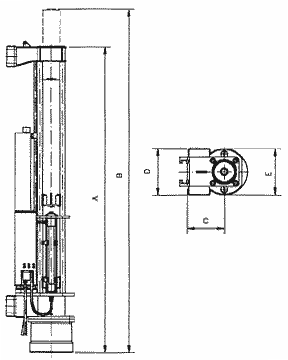 Technical data
Hammer type
250
500
1000
2000
2750
Purpose:
-max. pile diameter [mm]
-max. weight of pile [kg/m]

ø225
55

ø300
100

ø350
200

ø400
225

ø400
250
Weight of the ram [kg]

250
500
1000
2000
2750
Dimensions[mm]
-A
-B
-C
-D
-E


3050
-
220
-
360

3050
3350
220
-
360

3150
-
425
470
520

3150
4450
425
470
520

3200
4400
450
470
520
Height of falling max. [m]

1,0

1,0
1,2
1,2
1,2
Height of falling min. [m] ]
0,05
0,05
0,05
0,05
0,05
Hitting frequency
1-100
1-100
1-100
1-100
1-100
Weight of complete hammer [kg]
575
825
1700
2800
3600
Hydraulic power units










Hydraulic pump capacity [l/min]
55-80

55-80
40-90
40-90
60-90
Nominal operating pressure [MPa]
5
10
16
27
30