Microtunnelling
Specification
UM-98/114
UM-130/170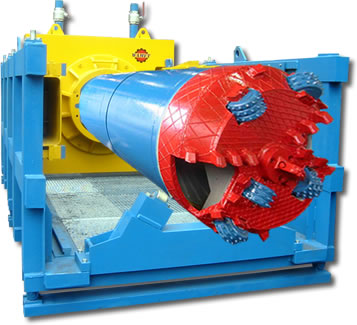 Microtunnelling is a technology for horizontal steered drilling, which equipped with self-propelled hydraulic installation tubes are pushed through the chamber embedded in pushing home station.
The laser beam controlls the drills track, observed on the monitor by the operator of drilling equipment. Operation control is from the steering position located above the chamber start.
First part of the drilling head can be tilted within a few degrees from the axis of the tube follower circuit so that drilling can be readily corrected.
Drill head is made of a rotary blade and crusher excavation output. Transportation of excavated material is realized by means of drilling mud.
Dane techniczne
Technical data
| Type | UM-100/114 | UM-130/170 |
| --- | --- | --- |
| drilling diameters | 980 mm, 1120 mm | 1295 mm, 1725 mm |
| nominal length | 150 m | 200 m |
| Starting chamber: | | |
| transportation of excavated material | washing | washing |
| control of the direction of drilling | laser | laser |
| tilt control | about 3 degrees | about 3 degrees |
| drive | hydraulic exhaust unit | hydraulic exhaust unit |
| engine power | 110 kW | 130 kW |
| mass | 48 600 kg | 60 000 kg |
Microtunneling technology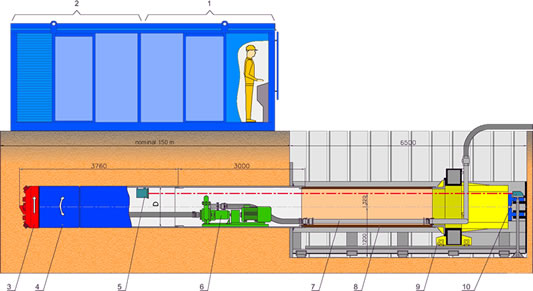 wheelhouse
hydraulic unit
excavation shield
pivoting member control
optical detector
mud pump
drill pipes
pipe jacking installation
pushing station
laser
From the construction site