Horizontal hydraulic drilling units
Horizontal hydraulic drilling units are manufactured in the following types:
MINI-20

HWP-25

HWP-27

HWP-27S

HWP-33

HWP-50

HWP-80

HWP-120

HWP-140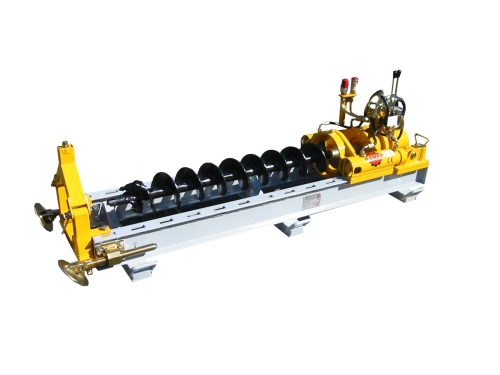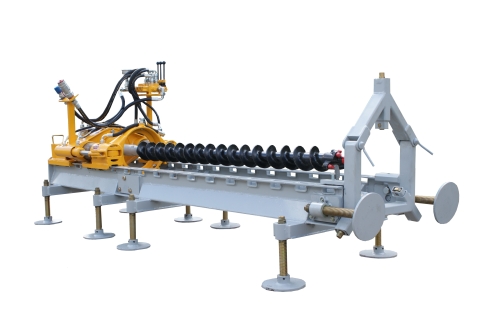 Existing network of trafficked roads, railway crossings pose problems in the contruction of non-collision sewer pipelines, gas, heating and cable entries for power and telecommunications.
To avoid the enormous costs and difficulties arising from traditional quarries, we designed and built with modern horizontal hydraulic drills.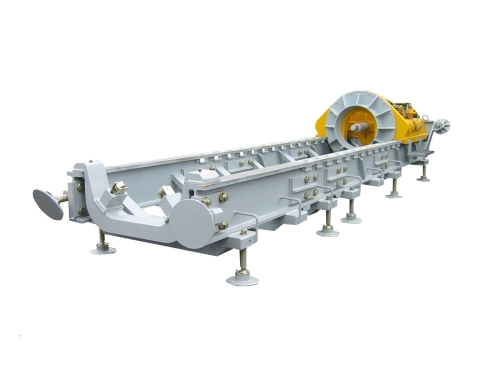 Drilling permit for pushing these pipes with diameters ranging from 100 to 1400 mm and a length of 50 m Drill Selection is made according to the diameter and length of the drilled hole.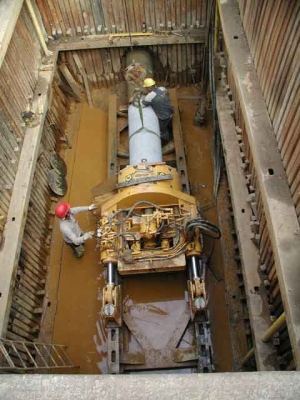 Each rig is supplied from the hydraulic-powered internal combustion engine. It is possible to supply drilling rigs with hydraulic excavators after adaptations.
Rigs are equipped with cutterheads for normal land, and the widia heads for the rocky land.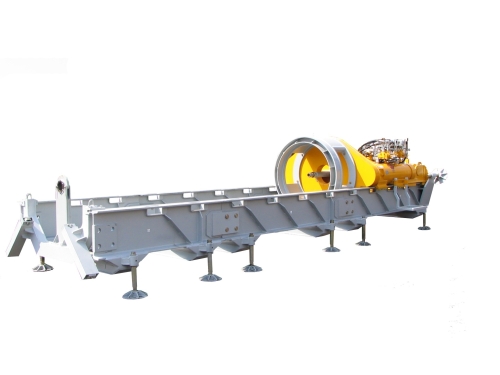 Technical data

No.
Drill type
Unit
MINI-20
HWP-25
HWP-27
HWP-27S
HWP-33
HWP-50
HWP-80
HWP-120
HWP-140
1
extent of
the push
tube
mm
108 ÷ 219
108 ÷ 245
108 ÷ 273
108 ÷ 273
159 ÷ 406
273 ÷ 530
406 ÷ 812
508 ÷ 1220
508 ÷ 1420
2
length of
drilling
m
25
30
30
30
40
40
40
50
50
3
Push-down
force
kN
125
250
250
250
250
610
1250
2000
3000
4
Torque
kNm
0,7
2,0
2,0
2,0
2,5
4
10
21
40
5
extent of
the push
tube
m
1; 2; 3
1; 2; 3
1; 2; 3
1; 2; 3
1.5; 3;
4.5; 6
2; 4; 6
2; 4; 6
3; 6
3; 6
6
Drilling
method
nbsp;
Screw
Screw
Screw
Screw
Screw
Screw
Screw
Screw
Screw
7
Recommended
length of the screw / 6-angle
m/mm
1 / s=36
1 / s=46
1 / s=46
1 / s=46
1,5 / s=46
2 / s=51
2 / s=65
3 / s=104
3 / s=104
8
Minimal
dimenssions of
working chambers
mm
2100 x
800
2200 x
1000
2200 x
1000
2200 x
1000
3500 x
2200
3600 x
1700
4800 x
2500
4800 x
3200
7000 x
3500
9
Drill weigth
with I segment
of the track
kg
240
340
340
340
600
1480
6600
6700
12000
10
Drill weigth
(no accessories)
with additional
segments of the track
kg
340
480
480
500
1250
1850
6600
12000
15600
11
Demand of
hydraulic
oil




















- rev
dm3/MPa
20 / 16
25 / 19
25 / 19
25 / 19
40 / 19
100 / 16
200 / 20
300 / 21
300 / 20
- movment
dm3/MPa
8 / 20
15/ 25
15 / 20
15 / 25
15 / 16
25 / 25
40 / 20
100 / 21
100 / 25
12
Recommended
power generator
kW
9
11
11
11
18
38
90
120
120
13
Crew
(number of people)


2
2
2
2
2
2
3
3
4
Download