Reamer with a propeller type "P"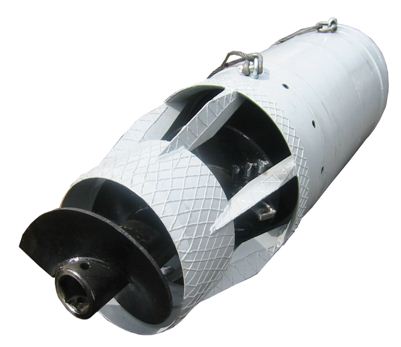 Reamer with a propeller type "P" is used in trenchless technology, pipe-laying using horizontal drilling operated rigs with tele-optic preview.

The reamer is used in the final stage of the pipeline system expansion performed on the target hole with a diameter of casing pipe O406mm (or 508mm, 550mm), which is transported by auger spoil transportation in the direction of "forward" to a diameter slightly larger than the diameter of the target pipe.

Widening the hole is done by pressing the reamer into the ground by means of actuators while drilling enclosed hydraulic auger drive transport in the casing pipe in the direction of "left". The land sandwiched between the front arm of the reamer is taken away by snail transport and directed twords the "forward" direction of the final chamber in the line of the covering of the pipeline.

Hydraulic screw drive of the transport can be translated into various sizes (outer diameter) of "P" type reamers.