About us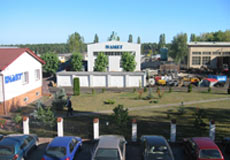 We have a pleasure to introduce our company and operations. PIW "WAMET" Sp. z o.o. was established in 1990 with its core business being the design and production of specialist machinery for building industry.
The company owns 2000 m2 of production area, modern design office and extensive stock of equipment for machining, metalwork and welding. Machines with WAMET trademark have a very high efficiency and a good reputation.
Below are the main products that we manufacture:
horizontal drills (steerable and non-steerable)
microtunnelling units
pile drivers
vertical drills
piling equipment
mixer sets
hydraulic power units
hoists and cable trailers
conveying systems
Data about firm

PIW Wamet
Production plant No. 1 / office
Inwalidów 1 street, 85-727 Bydgoszcz, Poland
Production plant No. 2
Witebska 1a street, 85-759 Bydgoszcz, Poland
Production plant No. 3
Filmowa 8 street, 85-836, Poland
Registration data:
FHP Waldis
Filmowa 8 street, 85-536 Bydgoszcz, Poland
NIP 953-112-90-04
REGON 092597762
CITI Handlowy Bydgoszcz 27 1030 1654 0000 0000 5965 6201
Share capital: 5.000.000 PLN
Page: 1 2 3 4 5
Partners
We own regional representatives of companies:
In construction of ours machines we apply components by recognized world companies i.e.:
PARKER HANNIFIN, ATLAS COPCO, BOART, CASAPPA, DANFOSS, DEUTZ, HONDA, HYDAC, HYDRAL, INDUKTA, KUBOTA, LIFTON, PONAR, REXROTH, SAI, SEW EURODRIVE, SKF, WARYŃSKI, WPH
We inform with satisfaction that our products were exported to:
Belgium, Belarus, Bulgaria, Denmark, Estonia, France, Germany, Great Britain, Hungary, Kazakhstan, Libya, Lithuania, Netherlands, Portugal, Romania, Russia, Slovakia, South Africa, Ukraine, United Arab Emirates.